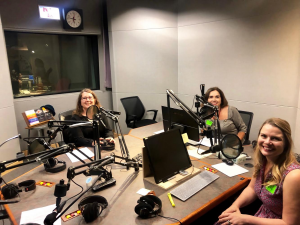 Listen to Dr. Fishman and Dr. Suhrheinrich speaking with SDSU President Adela de la Torre about our Center and autism research at SDSU.
---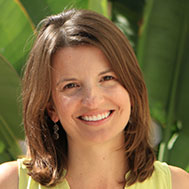 Dr. Sarah Rieth is awarded a new $3.3 million grant from the Institute of Education Sciences (IES) to research the efficacy of Project ImPACT (Improving Parents As Communication Teachers) for Toddlers. This naturalistic, parent coaching intervention was adapted specifically for toddlers with social communication delays through more than a decade of work by the BRIDGE Collaborative — a partnership of 15 service providers, funding agency representatives, parents and researchers, which Dr. Rieth co-leads. Read here for the SDSU NewsCenter coverage of the new award.
---
Congratulations to two doctoral students affiliated with the Center for Autism and Developmental Disorders, Lindsay Olson and Jiwan Kohli, for receiving the prestigious Autism Speaks predoctoral fellowship. Under the mentorship of Dr. Inna Fishman, Lindsay Olson will study language development and its neural correlates using functional MRI in a socioeconomically diverse sample of young children with ASD. Under the mentorship of Dr. Ruth Carper, Jiwan Kohli will investigate brain structure and cognitive function in older adults with autism to understand if they are at greater risk for cognitive decline or accelerated decline than typical adults. Stay tuned for the results of these exciting projects!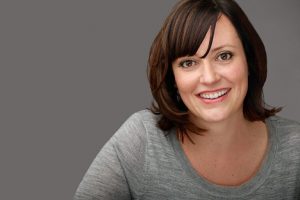 Congratulations to Dr. Sonja Pruitt-Lord who was awarded the Chancellor's award for leadership and innovation for her continued dedication to create opportunities for her students. SDSU NewsCenter reported on this honor. Watch the video here to learn more.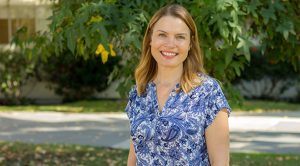 Dr. Jessica Suhrheinrich continues to help support special educators who teach students with autism. SDSU NewsCenter reported on her recent $5.5 million grant aimed to support the scale-up of evidence-based practices for students with autism through a partnership with the California Autism Professional Training and Information Network (CAPTAIN), a cross-agency network devoted to improving autism education in the state.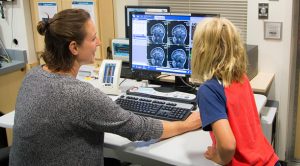 Dr. Inna Fishman's research on amygdala brain connectivity in children and adolescents with autism spectrum disorders, published in the Journal of the American Academy of Child & Adolescent Psychiatry, is covered by the Autism Science Foundation (ASF) Weekly Science podcast. The podcast provides weekly reviews of the latest autism research news stories by the ASF Chief Science Officer Alycia Halladay. Listen to the podcast here or here.
The study and its findings are also covered by the SDSU NewsCenter.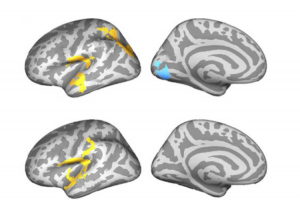 A research study published by the scientists affiliated with the Center (doctoral student Jiwan Kohli, Dr. Ruth Carper and colleagues) is featured in the Scientific American. The study found that brains of children with autism have different folding patterns than those of their typically developing peers. Specifically, certain regions of the brain's outer layer, the cerebral cortex, appear to be more intricately folded in school-age children with autism. Notably, many of the brain areas with exaggerated folding are among the earliest to develop folds during gestation, suggesting that these may be remnants of early developmental disruptions.
Dr. Inna Fishman, Director of the Center, and Dr. Mikaela Kinnear, Director of Clinical Services, receive a grant from the UC San Diego Altman Clinical and Translational Research Institute (UCSD ACTRI) aimed at strengthening academic-community partnerships. The award will allow the Center scientists to partner with Unscripted Learning, which – in conjunction with the San Diego National Comedy Theatre – uses improvisational theater and improv comedy to teach creative thinking, listening and social awareness. Drs. Fishman, Kinnear and their team will evaluate whether Connections, a program developed for teens and young adults on the spectrum, leads to improved social and communication skills.
Dr. Ruth Carper and Dr. Ralph-Axel Müller's paper published in the Journal of the American Academy of Child and Adolescent Psychiatry, highlights that children with autism spectrum disorders are lacking a typical asymmetry between the left and right hemispheres of the brain, in comparison to their typically developing peers.
In typically developing children, asymmetry between the brain hemispheres reflects different types of processing styles (the left is involved in analyzing specific details, and the right is involved in integrating the information to form a complete picture). This specialization allows the brain to process information more efficiently. In children with autism, however, the "division of labor" between the two halves of the brain is diminished, especially in the right hemisphere, which makes it more difficult to put information together into an integrated picture. See here for news coverage.
---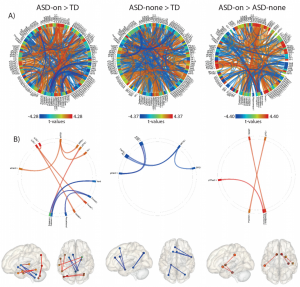 A research study published by the Brain Development Imaging Labs affiliated with the Center (authored by Dr. Annika Linke, Dr. Inna Fishman, Dr. Ralph-Axel Müller, and colleagues) is featured in the Spectrum News. The study found that children with autism who take psychotropic medications have different patterns of brain connectivity than do unmedicated children with autism. More than half of children with autism take medications to ease symptoms of anxiety, hyperactivity, inattention, or irritability. These drugs are designed to alter brain function, and our results suggest that they enhance the degree of synchronization between difference regions of the cortex.