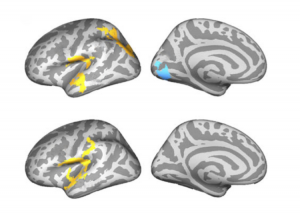 A research study published by the scientists affiliated with the Center (doctoral student Jiwan Kohli, Dr. Ruth Carper and colleagues) is featured in Scientific American. The study found that brains of children with autism have different folding patterns than those of their typically developing peers. Whether they are unusually smooth or convoluted depends on location and age:

https://www.scientificamerican.com/article/brains-of-children-with-autism-show-unusual-folding-patterns/
Dr. Inna Fishman, Director of the Center, and Dr. Mikaela Kinnear, Director of Clinical Services, receive a grant from the UC San Diego Altman Clinical and Translational Research Institute (UCSD ACTRI) aimed at strengthening academic-community partnerships. The award will allow the Center scientists to partner with Unscripted Learning, which – in conjunction with the San Diego National Comedy Theatre – uses improvisational theater and improv comedy to teach creative thinking, listening and social awareness. Drs. Fishman, Kinnear and their team will evaluate whether Connections, a program developed for teens and young adults on the spectrum, leads to improved social and communication skills.
Dr. Ruth Carper and Dr. Ralph-Axel Müller's paper published in the Journal of the American Academy of Child and Adolescent Psychiatry, highlights that children with autism spectrum disorders (ASDs) are lacking a typical asymmetry between the left and right hemispheres of the brain, in comparison to their typically developing (TD) peers.
In typically developing children, asymmetry between the brain hemispheres reflects different types of processing styles (the left is involved in analyzing specific details, and the right is involved in integrating the information to form a complete picture). This specialization allows the brain to process information more efficiently. In children with ASDs, however, the "division of labor" between the two halves of the brain is diminished, especially in the right hemisphere, which makes it more difficult to put information together into an integrated picture. See here for news coverage:  
https://www.huffpost.com/entry/autism-brain-symmetry_n_5841d0b1e4b0c68e0480b469